It's (inter)National Scrapbooking Day (err... weekend) at last! Our favorite time of year!
Scrapbook-Elements
is celebrating for 4 whole days starting
Friday May 1st
with awesome sales and fun challenges.
To add to the festivities, Kimmi Stewart, Rina Kroes and the Muses of their Royal Court have banded together to bring you this mini Blog Train with oodles of FREE gifts.
All aboard! Woo-woo!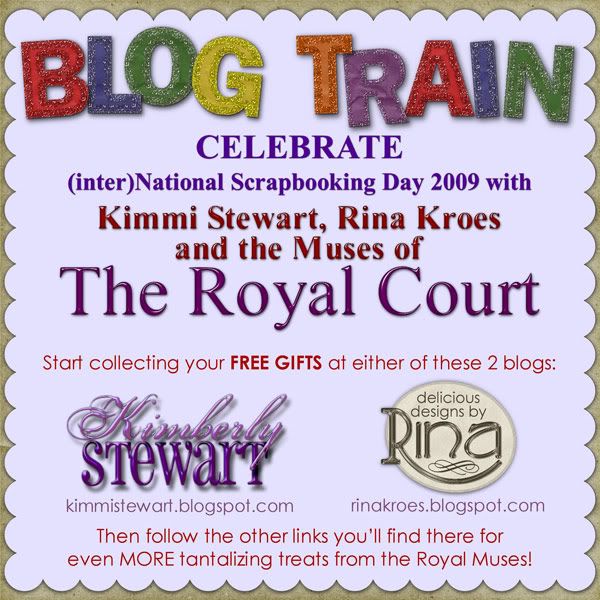 We know everyone's PayPal account will feel the effects of NSD shopping this weekend, so we want to spoil you a bit with some tantalizing treats that won't cost you anything.
You can start at any of the stations you like - you'll find a list of blogs at the bottom of this post. At each station you will discover a small gift created just for YOU by the extremely talented and generous ladies of the Royal Court - thank you, Muses!

You can download both of the goodies Bonnie made for you HERE and HERE. After you have downloaded your goodies, hop on board the blog train again for your next visit. These are the stations you'll find along the way:


Charne's Blog (Meisie's Doodles): http://meisiesdoodles.blogspot.com/

Kabra's Blog (Kabra's Korner): http://kabraskorner.blogspot.com/

Debbie's Blog (GrannyNKy's Notes from the Holler): http://grannynky.blogspot.com/

Denise's Blog (The Rich Scrapper): http://wererich.blogspot.com/

Lor's Blog (Lorilei Murphy): http://lorileimurphy.com/

Tammy's Blog (Creative Thoughts): http://tammygary.blogspot.com/

Rina's Blog (The Reluctant Recluse): http://rinakroes.blogspot.com/

We hope that you will enjoy the ride with us. Happy scrapping!